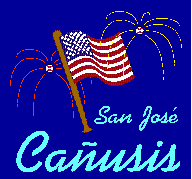 Manager: Rick Wong
E-mail: sjc%40ibl.org
Brief Team History
The San Jose Cañusis have always featured a rare blend of speed and talent uniquely suited to the team's stadium, the San Jose Beach. Now, however, after a 1999 run at the IBL Championship, the team's age is starting to show. Many of the team's original roster in 1992 still play in San Jose, including: Mark McGwire, still the most feared hitter in the game; Barry Larkin, once the best shortstop in the game; Rickey Henderson, the greatest leadoff hitter of all-time; and Devon White, the spectacular centerfielder who used to set the standard for defensive play.

2001 Record: (First Place, AC West)


2000 Record:


1999 Record: 100-62 (American Conference Champions, AC West winner by 3 games)
In the AC's toughest division featuring the top three records, San Jose finishes on top. Then, the Cañusis edge out the Tri-State Traffic in a seven-game series, led by 17 RBIs from slugger Jeromy Burnitz. San Jose takes the AC championship with a five-game series win. But San Jose is no match for the powerhouse NC Caspar Ghosts, falling in four straight games.

1998 Record: 86-76 (Third Place, AC West)
A late season collapse knocks San Jose out of a playoff spot, as the Palo Alto Devils sneak past in the final week to grab the final wild-card spot.

1997 Record: 88-74 (Second Place, AC West)

1996 Record: 103-59 (First Place, AC West, Division winner by 4 games)
San Jose finishes the season with four straight wins to clinch its first ever division title, then beats the rival California Devils in the playoffs before succumbing to the Motor City Marauders in the AC championship.

1995 Record: 90-72 (Second Place, AC West)
The San Jose Cañusis finished the season by taking two of three games from the rival California Devils. San Jose notches 90 victories for the second straight season and finishes in 2nd place in the AC West and ahead of the Devils for the first time in franchise history.

1994 Record: 90-72 (Third Place, AC West)
The '94 Cañusis got off to a hot start, but once again fell into a June swoon, recovering only well enough to reach 90 victories.

1993 Record: 74-88 (Third Place, AC West)
The '93 team never seemed to get started and finished with the franchise's only losing mark.

1992 Record: 89-73 (Fourth Place, AC West)
The '92 Cañusis led the AC West conference for nearly two months before succumbing to a rash of injuries that dropped the team into last place. A late stretch run helped the team finish over .500. Still, an impressive ten San Jose hitters reached double-digit homerun totals.
2002 Roster

  PITCHERS
  Chris Brock
  Dave Burba
  John Burkett
  Bruce Chen
  Dennis Cook
  Mark Gardner
  Orel Hershiser*
  Steve Kline
  Jose Mesa
  Steve Parris
  Dan Plesac*
  Lou Pote
  John Rocker
  Bill Taylor
  Donne Wall
  Jamey Wright

  CATCHERS
  Tom Lampkin
  Mike Macfarlane*
  Todd Pratt
  Benito Santiago

  INFIELDERS
  Chris Clapinski
  Jeff Frye
  Corey Koskie
  Barry Larkin
  Fred McGriff
  Mark McGwire
  Mark McLemore*
  Warren Morris

  OUTFIELDERS
  Jeromy Burnitz
  Angel Echevarria*
  Rickey Henderson
  Terrell Lowery
  F.P. Santangelo
  John Vander Wal
  Devon White

*Declared free agent for 2001

Do your own scouting
Barnes & Noble offers $10 off any purchase of $40 or more. Click here to search for the 2001 Stats Major League Handbook. Click below to find information on ordering the following book from Barnes & Noble.
Stats Major League Handbook 2001


Last updated: KBH (17 Nov 2000)